Whether you need to cool a large area or a single worker, there is no easier or more efficient way than with a MegEvap™™ portable evaporative cooler.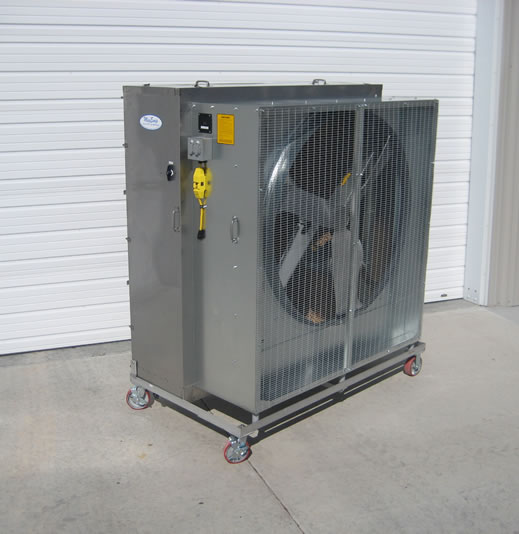 We offer models from 750 CFM to 20,000 CFM (larger by special order). Our HV series coolers are ideal for space cooling such as warehouses, manufacturing facilities, repair shops, airplane hangers, etc. With the introduction of the awesome new 20,000 CFM HV 50-20, MegEvap™ now offers the highest capacity portable evaporative cooler on the planet to cool more area with a single cooler than ever before! The HVJ-30 "Longshot" is ideal when a more concentrated airflow is desired. It's equipped with a high velocity fan delivering 9000 CFM in a directional stream, making it possible to cool a specific area from a distance. Applications include racing pits, loading docks, manufacturing, sporting events, aircraft service shops, machine operator stations or any other application where it is desirable to concentrate cooling in a specific area. The HVTA-30 "The Boss" is a no nonsense heavy duty industrial grade cooler designed and built for the most extreme conditions. It utilizes a high pressure tube axial blower that pushes 15,000 CFM of conditioned air up to 100 feet through a 30" flex duct or two 18" flex ducts and can be used without a duct as a directional cooler. Applications include smelters, foundries, power plants, mining operations, high temperature confined work areas and to supply clean cool air to repair and maintenance crews working in hot remote locations.
The HV Series coolers are extremely flexible as they can be supplied as a roll around portable, suspension mount, or in a through-the-wall configuration.
So, whether your need is to cool a single worker or an entire facility, MegEvap™ stands alone in its range of selection and quality of construction, insuring you the best value for your equipment dollar.
Stainless steel wet section with easy access to water system for long life and low maintenance.
High strength light weight aluminum chassis.
High efficiency fans and blowers for maximum air delivery in a wide range of applications.
12" rigid media for the lowest output temperature and highest cooling capacity available in any portable evaporative cooler.
Digital output air temperature thermometer that makes it easy to see the performance that sets us apart from the rest.
110 or 220 volt power input with G.F.C.I. protection for safety (HVTA-30, 230 or 460 volt 3 ph.).
Steel casters with polyurethane tread, brakes, and grease fittings rated at 600 lbs. each (HV 50 750 lbs).
Washable aluminum pre-filters keep debris out of media (optional on HV 36 and HV 48).

Call for pricing and delivery options at (435) 743-5561 or email inquiry to info@megevap.com.